Since the entry into the polyester technical yarn business, which is broadly used in building, civil works, in-vehicle, transportation, normal industry sites, etc., in 1986, Hyosung has been expanding the production scale for the growth of the downstream industry in Korea and overseas countries. By supplying optimal yarn appropriate for the use of each field, such as broad woven coated fabrics for building and civil works, seat belts and power transmission belts for cars, industrial conveyor belts, straps, and sewing threads, Hyosung gains diverse customer trust, and particularly, seat belts for cars retain the No.1 market share in the world.
Moreover, it has been taking the activities satisfying customer needs and providing new values via the operation of the R&D Team from the early stages and has been providing differentiated customer service based on its local production and delivery system via the operation of the Beaming Plant and Warehouse in Rock Hill, USA in 2002 and the establishment of a yarn manufacturing factory in Jiaxing, China in 2005. And Hyosung will become one of the most reliable partners by keeping development and production activities for the creation of customer value, including entering the business of Nylon 66 yarn for car air bags, which is currently showing continuous growth and supplying to famous domestic and overseas car companies.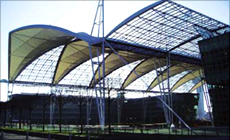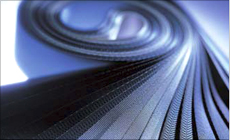 Yarn for broad woven coated fabric
Hyosung produces yarn for broad woven fabrics such as truck covers, banners, sign boards, sail cloths, and geo-textiles based on no broken filament and evenness of low shrinkage.

Yarn for airbags
Hyosung has developed Korea's first Nylon 66 yarn for airbags currently available in the market. To satisfy the change in the airbag market and customer needs, the company supplies various kinds of yarn products.

Yarn for sewing threads
It has developed yarn for sewing threads that are mainly used for shoes and furniture and supplies it to the world's leading sewing thread customers.